Waterford Chiropractor for Optimal Health
Find Healing and Wellness at Hallett Chiropractic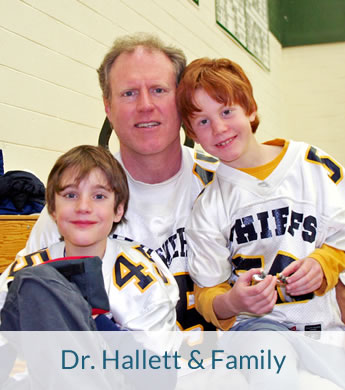 Whether you've been injured in an automobile accident, suffer from chronic pain or illness, or just want to start living a healthier life, full of vitality, Hallett Chiropractic can help. Waterford chiropractor Dr. Robert Hallett has a passion for helping people live better, healthier lives through chiropractic care and proper nutrition.
From your very first consultation, you'll be treated like a member of our extended family. With care that is warm, friendly and professional, we think you'll feel right at home in our office.
Discover Lasting Relief
Traditional medicine, with its use of drugs and surgery, may help you find relief from your symptoms in the short term, but the problem will keep coming back. At Hallett Chiropractic, we dig deeper and learn more about you, your lifestyle, and your concerns so we can get to the root of the problem and find you lasting relief.
Get Healthy, Starting Today
In addition to quality chiropractic care, we offer nutritional counseling and supplementation to help you boost your health and live your best life yet! Dr. Hallett relies on the Standard Process® line of products to bring you top quality nutrients drawn from whole foods, which your body is better able to process than standard multivitamins.
We invite you to learn more about Dr. Hallett and our practice by browsing our website. Schedule your first appointment and start your journey to a happier, healthier you!
Hallett Chiropractic | Waterford Chiropractor Also Serving Clarkston | (248) 674-1900